Books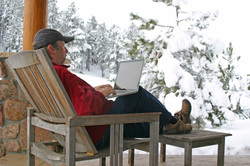 With interests as varied as Science Fiction, Movie Soundtracks, Mystery, Poetry and Photography, several divergent projects have recently sprung to life in the frozen fortress of solitude.
Dead Balance
is mystery / thriller where a haunting voice foretells impending deaths in "A Rocky Mountain holiday—it's to die for."
The Devolution Chronicles
is a Sci-Fi story story spanning 4 books, 12 dimensions and ultimately, an epic journey through the Multiverse to the Fifthworld...
---
---
High Country Haiku
is a journal of poetry and natural photography, capturing the spirit of the seasons in Colorado's high country. Winter - the first of the 4 seasons, is available on eBooks and in also in Print.
When a photographer trades the urban jungle of Los Angeles for winter in the Rocky Mountains of Colorado, poetry is revealed among hushed footfalls on new fallen snow.