Logan's Lament - FYC Grammys® Submission for 2016!
Dark and powerful, unearthly and haunting, an eerie supernatural dreamscape wrapped inside a musical vision quest of progressive rock interwoven with the tribal rhythms of Native American drums, flutes and voices.
Amazon 5 Stars - Eerily mesmerizing!
"This arresting track starts with a few lines in Native American as a tribute to the warrior Logan and proceeds to mesmerize with a brilliantly written song. The haunting lyrics are hard-hitting and their innate despair can move anybody. There is a fantastic instrumental interlude between the verses. Clark's vocals add to the eerie atmosphere created by the instruments. I got goose pimples listening to this track :-) :-) :-)" ~Ricky Kej

When a Grammy Award winner digs your music, you smile… Thanks RK!

Featured in Clouzine Contemporary Music Magazine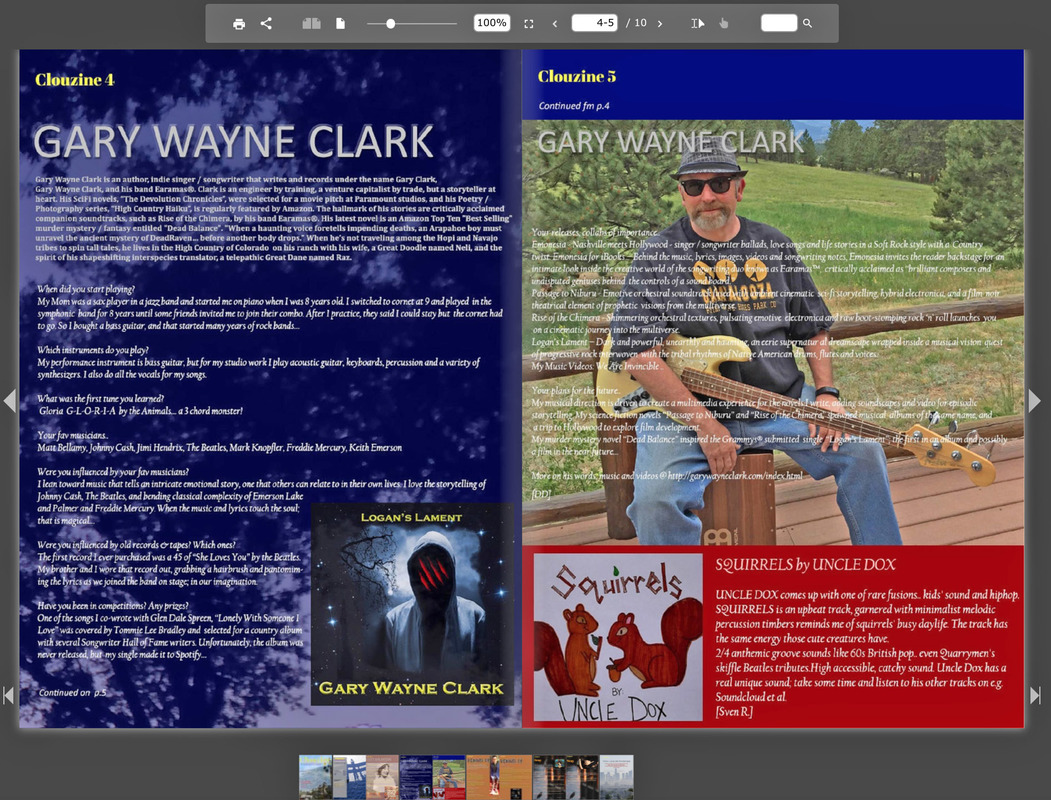 Album Notes
Inspired by the top selling murder mystery novel "Dead Balance", the music and lyrics of Logan's Lament draws the listener into a dream turned nightmare in the creepy mountain town of Deadraven beneath the shadow of the Continental Divide. It is in this surreal world that Grammys® Recording Academy Artist Gary Wayne Clark (Earamas™; Rise of the Chimera, Passage to Niburu) reveals his adept musical and lyrical terror that places you inside the mind of Logan Lone Bear Tuu'awata, a troubled Arapahoe boy with a paranormal talent for locating dead bodies, as he slowly descends into madness.

With a host of ethereal voices speaking in a demented dream language of Arapaho, Hopi, Spanish and English, Logan's Lament delivers a frightful and disturbing mood for any brave souls that dare to don their headphones and venture into the dark corners of the mind. After listeners double-check the lock on the closet door and peer under the bed, they will be destined to sleep restlessly with one eye open… for the more they listen, the more they will hear.

Credits
Words, Music, Recording Engineering and Production by Gary Wayne Clark. Lead Guitar by Alexandra Nicole Clark. Percussion by Shilo Stroman. Rhythm Guitar by Rob Leavitt. Bass, Acoustic Guitar, Keyboards, Digital Drums, Vocals, SFX by Gary Wayne Clark. Percussion tracks recorded at the Downtown Artery, Ft. Collins, Colorado. Final Rendering with LANDR.

Cover Design
Art and cover design by Gary Wayne Clark; some images licensed from Shutterstock.

Lyrics
Honoo3itooné3en.
Niihii3é3en.
Hiiwóónhehe', tenéi'éíhin.

"Behold – a scared voice is calling you
All over the sky, a scared voice is calling."
~Black Elk

Radio chatter…

Alone in the shadows
Of yesterday
A voice inside your head, says
That you can't stay

In a world of illusion
Between the light and dark
The demons inside your mind… are
Tearing you apart… again

You don't know which path to choose
You might be losing your mind
Crack the door and let the darkness in
And now your souls… are entwined

Suicide and insanity
Haunting pleas in your head
Cast your soul into the shadow world
And live the dreams… of the dead…

Whispers in the darkness
Ghosts inside your head
Echoes within your mind…
Voices of the dead

Shadow world has come for you
There's no place to hide
It's hopeless to bar the door… when
It comes from inside… of you

You don't know which path to choose
You might be losing your mind
Crack the door and let the darkness in
And now your souls… are entwined

Share the trust in your destiny
Arm and arm in the fight
Hang together or you'll hang alone
Destroy the darkness… with light.

Honoo3itooné3en.
Niihii3é3en.
Hiiwóónhehe', tenéi'éíhin.

Radio chatter… and whispers.

Logan's Lament © 2016 Gary Wayne Clark
For Boo Bear…

Song Inspiration
For all those who are suffering in their own silent insanity, who hear voices from the dark, and are contemplating a permanent solution to a temporary problem, do not despair. Listen to me, I am telling you a story. You are strong; you and I are strong. If you reach out you will find that other kindred souls are out there, waiting to hear your voice. The words of Logan Lone Bear Tuu'awata were written in the stars and spoken through me in a dream --

"It is in our darkest hour, perched on the cliff of helplessness as we stare down into the depths of despair, that we suddenly realize one immutable truth: We are not alone in the universe. If we open our eyes and our hearts, we will see that there are others in this world that can help us. Others that have confronted their own demons and beat them back, and even though scarred from their lifelong battles, they are willing to open their hearts and offer us shelter from our own storm. It is in that moment in which we acknowledge our own vulnerability that we can find our inner strength, our voice, and our resolve to fight for the life that we deserve.

That is not to say that the road ahead will be smooth; it will not be. Our existence will always be a struggle, a struggle to maintain control of our life, our thoughts, and indeed, our very sanity. But when the dust finally settles on our turmoil, we will find that it has been the struggle for life that defines who we are, and who we can become. And therein lies the hidden epiphany along our rocky path; we need not walk it alone. For it is by helping others, as we both struggle at the doorstep of insanity, that we each become stronger. And it is in that instance of altruism that our destiny will be revealed, and we will find our place in this world as we turn darkness into light."
~Logan Lone Bear Tuu'awata

"Yes, Niwot. The dark road you traveled with Guardian has ended, but our journey together into the light…it has just begun."
~Ten Bears

"Hoo3itoo. Koo-he-etn-oo3itoon-e3?"
A story. Should I tell you a story?
"Beneeni-noo neyoooxet cowo'oot."
I am a whirlwind passing by.
"Hehheisonoonin neniitoneino', noh hebesiibeih'in,"
Let them hear us, our fathers and our grandfathers,
"Heetihcihkoutee' hoowu3oow hiine'etiit."
So that the breath of life will endure for all time.
~Arapaho Proverb

Like Logan, we all have our own inner demons to deal with. And as my inner voice warns, "Just because you're paranoid doesn't mean they're not out to get you." Until we meet in the Sky World one day my friend, I shall remain vigilant.

Acknowledgements
Thanks to all those living in the shadow of the Continental Divide who confided their own real-life mysteries of the many strange, unexplained events that somehow get swept under the rug of truth. From Lew's diligent monitoring of all harmonic frequencies, Deanna's tinkering with the big ruckus conspiracy in my mind, to law enforcement, medical personnel, dentists, park rangers, and the everyday town folk I have swapped stories with here in the gateway to Rocky Mountain National Park…You know who you are. In the ether I am transmitting a special thanks to Coyote Feather Rob Leavitt, who has joined me in my illusory sweat lodge of creativity beneath the snow-covered peaks of NeNesotaiux. Just as the shadows of the sacred fire dance among the smoke rings on the elk skin ceiling of my mind, so too do the haunting strains of his psychedelic slide guitar and magical mushroom soup.

As a writer, my mind habitually traverses story lines driven by a transcendent connection with the spiritual beliefs of Native Americans. Their respect for the earth, for nature, and their celestial bond and nexus with the universe has always felt to be a comfortable place in my soul. Admittedly, my illusory linkage was partially nurtured by an improbable tale told for generations, of a young woman who fell in love with a famous war chief, and when forbidden to consummate their romance, secretly became his bride and mother to his children. A dubious ancestral story, just a folktale really, until recently I received the results from a DNA test and discovered my own Native American ancestry. People say that buried inside every folktale is an imaginary kernel of truth. For me, this scientific revelation and mystical reconnection has opened a door to many plausible possibilities.

I owe particular thanks to my brothers, the Native American people of the Arapaho, Hopi, Navajo, Ute, and Shawnee Nations, and especially Gary Tso, the Left-Handed Hunter, for the friendship, medicine, and tales we have shared over the years.

The inspiration for my writings and songs are encapsulated in the words of the Ancient Ones in a Hopi proverb that speaks to my own personal truth:

"He who tells the stories…rules the world."